For some individuals, not having straight teeth can have a negative impact on their self-confidence. For others, improperly aligned teeth can lead to difficulty chewing or long-term jaw problems. Previously, orthodontists used braces as the main treatment option to straighten teeth and properly align our bite.
Current technology utilizes nearly invisible clear aligners (Invisalign) to properly align teeth, eliminating the need for traditional metal wires and brackets for many patients. This advance in modern technology has improved both the affordability and availability of achieving straight, healthy teeth.
What are Invisalign Braces?
Invisalign braces are a type of orthodontic treatment that helps to align teeth without the use of adhesive metal braces. These aligners apply expertly-designed, gentle pressure to move teeth into place. Invisalign aligners are made of a patented thermoplastic material called Smart Track, which was made exclusively for Invisalign treatment. Invisalign braces are typically worn from anywhere between 6 and 24 months, depending on the complexity of the case and various other factors.
Invisalign vs Traditional Braces
The main differences between Invisalign and traditional braces are:
Invisalign is virtually unnoticeable compared to traditional wire braces.
Invisalign is easily removable for eating, brushing, and drinking.
It's easy to see the difference between Invisalign and traditional braces. Invisalign is clear plastic that goes over the top of your teeth and is removed for eating, drinking, brushing and flossing. Often, Invisalign is more comfortable to wear than braces.
In some cases, Invisalign may take fewer consultations compared to braces. A 3D scan or impressions of your teeth are used to create a series of customized retainers that you change at regular intervals, following your dentist's directions. Unlike braces, you won't need to visit your dentist's office as often for adjustments, and most likely just need the occasional check-up to see how your teeth are progressing.
There are a few considerations to keep in mind with Invisalign, however. You must be very disciplined about wearing your aligners and putting them back in your mouth after eating or brushing. It is recommended you wear your aligners 22 hours a day. Additionally, Invisalign may be more expensive than traditional braces, and may not produce as effective results. Invisalign is also not always an option for overly complex cases.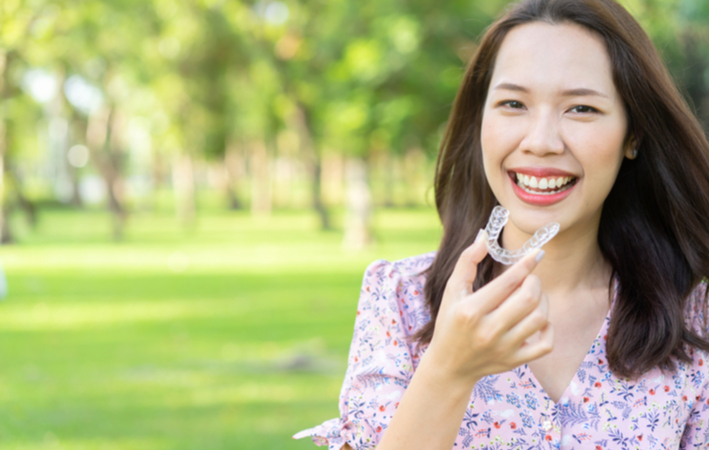 Timeline (AKA: How Long Will You Be Wearing Them?)
Invisalign works on a case-by-case basis. Each case is customized for that particular patient. For cases where teeth only have to be moved a minimal amount, the aligners may only have to be worn for a short period of time. Usually, Invisalign will have to be worn from 12 to 18 months to straighten teeth, but more complex cases may take 24 months or longer. Some cases may not be able to be treated with Invisalign at all.
It is important to take regular care of your teeth while engaging in orthodontic treatment. You should still maintain your regular dental check-up and cleaning appointment schedule.
Invisalign FAQ
Am I a candidate for Invisalign?
Invisalign is an option for most teens and adults. With new technologies, it is possible to improve most smiles with clear Invisalign aligners.
Am I a candidate for Invisalign treatment if I've already had braces or other dental work?
Yes, usually patients who have had braces in the past, but found their teeth have shifted back, are some of the easier cases to treat, and almost always a good candidate for Invisalign. If you are currently wearing braces, contact your dentist to see if making the switch to Invisalign will work for you.
If you have veneers, crowns, or bridgework, it is best to discuss your individual needs with your dentist.
What is the process to start Invisalign treatment?
If you are interested in Invisalign, treatment will begin with an initial consultation. Your dentist will evaluate your case and see if you are a suitable candidate for treatment then proceed to scan your smile and begin to create your aligners. They must be worn in a step-by-step process, wearing a new aligner every 1 to 2 weeks as directed by your dentist.
What is wearing Invisalign like in day-to-day life?
Pretty simple. The aligners are clear and virtually unnoticeable when being worn, and completely removable. This means you can remove them whenever you need to eat, drink, or brush your teeth!
The treatment may be mildly uncomfortable for the first day or two of wearing a new aligner, but for the most part, it is mostly a feeling of pressure on your teeth and is generally quite bearable.
You may experience a slight lisp when switching to new aligners, but that is just your tongue getting used to them. It should go away in a few days.
How do I clean my aligners?
The best way to clean your aligners is simply to brush them with a soft toothbrush, toothpaste, and warm water. Hot water may warp the plastic. Always brush your teeth after meals and drinks to avoid any food residue that may stain the aligners.
What happens after treatment?
In most cases, your dentist will prescribe a retainer to be worn for a specific amount of time following treatment. Your retainer may have to be worn full time or just at night, depending on your unique case.
The Added Benefits of Straighter Teeth
Straighter teeth cannot only improve your confidence but your oral health as well. Improving alignment can help prevent tooth decay and gum disease because straighter teeth are easier to clean.
Poorly aligned teeth can cause wearing of your tooth enamel if your bite isn't aligning correctly when you are biting down. An improper bite can also create TMJ (jaw) issues and damage the supporting bone and gums.
If you have questions about Invisalign or other treatments, be sure to ask us about the best options and the benefits for you. Contact us to book a consultation and get the smile you've always wanted.